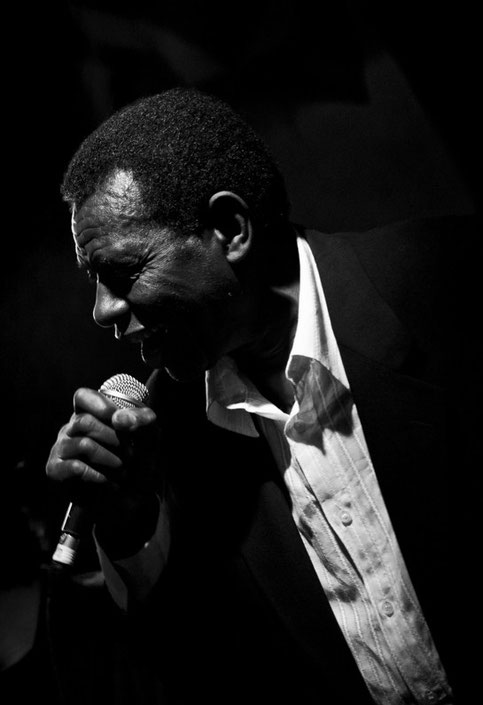 Sad new for music lovers as Rhythm'N'Soul singer Herbie Goins just passed yesterday aged 76.  
Started his singing career in NYC, opening for the likes of Sam Cooke , BB King and Bobby Bland. Very popular with the Mods, Herbie gained much appreciation in the mid sixties where, with his band, the Nightimers, became a regular attraction at the coolest London venues such as the Marquee  and, the self proclaimed "Swinging Club of Swinging London", the Flamingo. 
His legendary status amongst Soul fans is mostly due to his second single "No. 1 in your heart" , later to be a popular Northern Soul spin, backed by the rhythm'n'soul mover "Cruisin'" still an anthemic dancer with the Mods tribe. The B side of his third and last single "Coming home to you", a band original and a hot RnB number is also well worth a listen. 
He sang on Alexis Korner's Blues Incorporated albums "Live at the Cavern" and "Red hot from Alex" and was on the same bills with the likes of John Lee Hooker and a young Jimy Hendrix which apparently was a usual punter to Herbie's shows. In later years Herbie made a triumphant return on stage at mod rallies, particularly at "Modstock 4" in Cattolica in 1997 (where your humble penman had the privilege to meet him ) and at the New Untouchables Isle of Wight rally of 2001. 
These are the notes from his only LP "No. 1 in your heart" also issued as "Soul Soul Soul" :  "Herbie Goins, born 21st February, 1939 in Florida, U.S.A., is the son of a Harlem Gospel singer, and after colourful careers as a chef in a New York night club and service in the U.S. Forces, eventually came to England, where he has built and earned respect of a large following of both jazz and "pop" enthusiasts. Because of his liking for jazz, Herbie has developed a great "feel" for "pop" music and I hope that this L.P. exposes the quality and style, which, to my mind, are instantly appreciated and summed up in just two words - Herbie Goins." - RIP
Carlo Sesto